Are you ready for democratizing AI?
Have you been wondering what the excitement surrounding Computer Vision is all about? Were you thinking about taking the first steps in the field of Artificial Intelligence and testing the waters of AI? Start the journey by developing projects for future-orientated complex AI applications with the unique AI-Workstation powered by Robotron & Kontron!
Creating AI models has never been easier
You don't need any coding skills, complicated software installations, cloud applications or hardware connections. All you need is the new AI-Workstation Base System to create an AI model using the Robotron RCV Software Bundle. The hardware is already optimized for the use of the Realtime Computer Vision (RCV) solution and ready for immediate use.
How the AI-Workstation functions
Our AI-Workstation-solution comes pre-installed and offers a no-code GUI that caters to both beginners and advanced users. The "Cockpit" GUI facilitates the import, standardization and pre-processing of images and serves as a central administrative tool for your AI projects.
You don't have enough images to create an AI model?
The "Cockpit" offers a collection of prevailing data augmentation scripts to enlarge the size of your dataset. Synthetic image generator tools embedded in the "Cockpit" enable you to quickly create a new dataset of the component superposed on generic backdrops or using generative models. Annotation of images in all ranges of granularity such as classifications, bounding boxes and segments can be implemented using the simple and intuitive tools available in the "Label Tool" GUI. The GUI offers drop-down menus and as well as hot-keys, thereby catering to the needs of both beginners and professionals.
Do you have a large dataset and are you feeling fatigued from all the labeling?
Take advantage of the open interfaces integrated into the "Label Tool" to connect pre-trained models and accelerate the labeling process by using the assisted-labeling feature.
The solution comes with a selection of pre-trained and customizable AI models. By selecting a data set and a pre-trained model in the "Training" GUI, you can initiate a transfer-learning process with a One-Click-Solution.
Not sure about what hyper-parameters to use? Just let the "Training" GUI supply a preset tailored for your system. The progress of the model training can be monitored utilizing the live logs or the graphical visualization tool, "Tensor Board". Once the training is finished, the open interfaces of the toolkit can again be used to deploy the model and perform inferences directly in the "Label Tool" or connect them to other API's.
With our AI-Workstation, creating Computer Vision based AI models is as simple as turning on your PC and opening a browser. Try it for yourself: our experts will be happy to provide you with further information!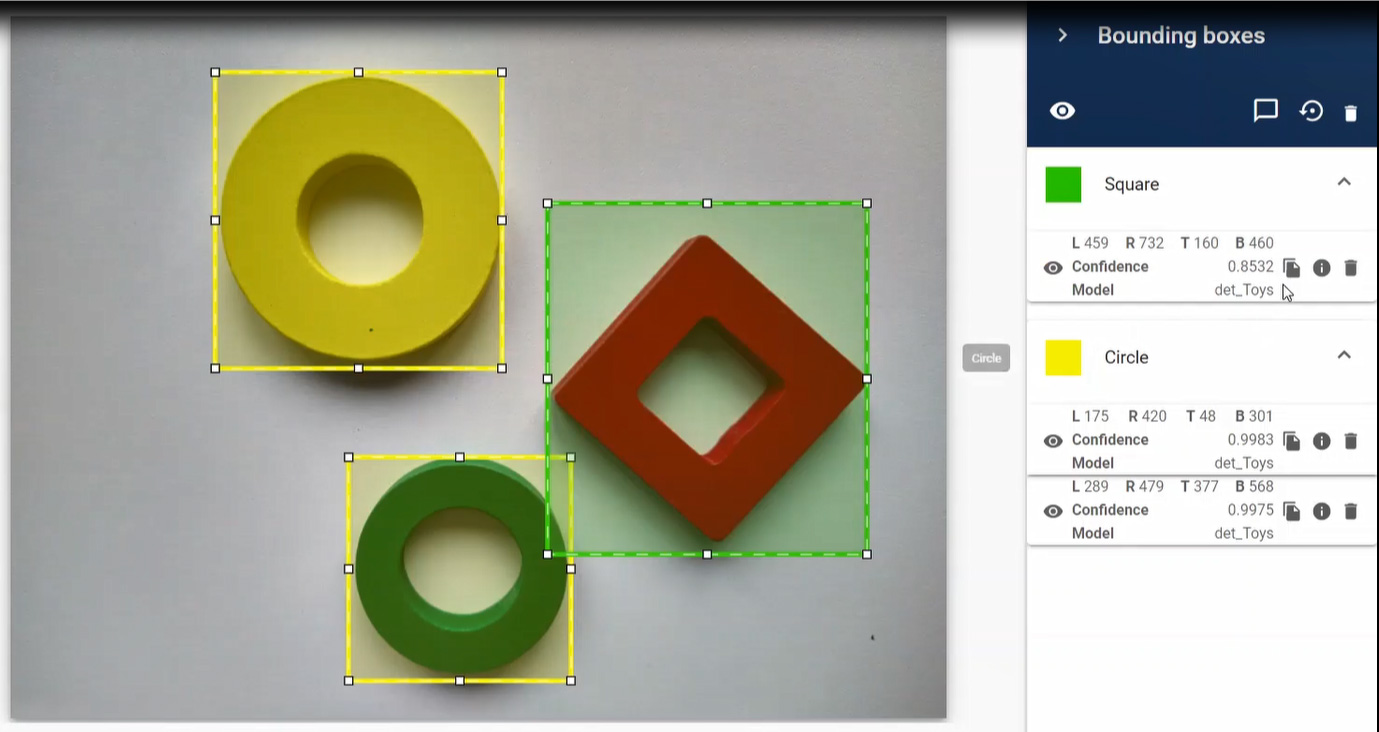 Robotron & Kontron:
Creating the future of AI together
Kontron is a global leader in IoT/Embedded Computing Technology (ECT). As part of the S&T technology group, Kontron offers individual solutions in the areas of Internet of Things (IoT) and Industry 4.0 through a combined portfolio of hardware, software and services. With its standard and customized products based on highly reliable state-of-the-art technologies, Kontron provides secure and innovative applications for a wide variety of industries. As a result, customers benefit from accelerated time-to-market, lower total cost of ownership, extended product lifecycles and the best fully integrated applications.

For more information, please visit: www.kontron.com