Solutions for Smart Utilities
Robotron Energy Market Platform offers comprehensive software solutions for the digitalization and optimization of relevant processes and value chain requires for energy sales. The energy data mangement system for procurement and sales robotron*esales supports the smart handling of these processes.
All modules of this product family communicate interface-free via a common data model. All modules of your sales value chain that are database-based and workflow-driven can be flexibly connected in a modular system. Procurement modules, such as portfolio, risk, and schedule/nomination management, also interact on a common data basis. This provides the precondition for an optimal and integrated execution of your entire sales and procurement process.
Our Solutions for Secure and Efficient Processes
Forecast
Fast, high-quality and mass-produced energy forecasts using a variety of forecasting methods
Intelligent energy forecasts - the basis for optimal energy management processes
Robotron's various forecasting tools offer the perfect combination of different methods for short-, medium- and long-term forecasting of load curves.
With robotron*epredict, Robotron provides a forecasting tool that is probably unique in the market. It sets new standards with its flexibility in application, its convenient operation, its high performance and its excellent prediction results.
Efficient Offer Calculation
Flexible, fast, audit-proof offer calculation with the all-in-one solution from Robotron
Accounting
EDM accounting and invoice verification for efficient billing processes
Flexible solutions for optimized billing processes
With its integrated billing module, robotron*esales supports clients in the periodic (e.g. monthly, annually) or one-time billing of the following matters:
Supply-,
Trading- (from portfolio management),
Balancing group-,
Network utilization and service contracts
Other billing matters
The billing is done on the basis of metered load curves, standard load profiles, forecasts or calculated consumption rates. Furthermore, the invoice verification module provides you with a completely automated verification process. Including the import of incoming invoices, the creation of shadow documents and their comparison.
robotron*Finanzen is a powerful, reliable and innovative financial accounting software for modern energy suppliers. The modular program meets all professional requirements and is certified and successfully in use in numerous German states. It can be used either locally on a dedicated server or in a data center.
Balancing
Modular solutions for all balancing requirements for electricity and gas
Balancing - Main features at a glance
The different modules for balancing reflect the coverage of all requirements of the varying market processes. For this purpose, a variety of tools for aggregation/calculation, balancing group and contract management is available, as well as for market communication with the various market partners.
All calculated figures are prepared in appropriate formats and can also be seamlessly transferred to neighboring systems and modules.
Procurement Risk Management
Quick overview and audit-proof reduction of risks in trading transactions
Procurement Risk Management - Main features at a glance
The comprehensive functionalities integrated into the company-wide risk management system allow the risk of trading transactions to be quickly assessed and reduced in an audit-proof manner.
These functions are based on a range of monitoring mechanisms. For example, limits for procurement staff, portfolios, products or counterparties can contribute to risk minimization. In case of a limit violation, logged actions can be initiated, such as warning messages through various channels, preventing the execution of trades, and others.
Portfolio Management
Optimal demand coverage of your sales organizations (sales, generation and trading portfolio management)
Portfolio Management - Main features at a glance
Optimize the fulfillment of demand of one or more sales organizations (sales, generation and trading portfolio management) with the Portfolio Management module of Robotron.
The module offers the following unique options:
Monitoring and optimization of procurement segments based on economic evaluation
Visualized decomposition of open positions into tradable products
Interface-free cooperation of all sales modules
Portfolio and schedule management through a common data model
With integrated reporting and numerous functions for the realization of portfolio management transactions, your work is made considerably easier.
Contract Management
Manage contracts simply and easily online
Contract Management - Main features at a glance
With the Contract Management module, energy suppliers offer their customers the possibility to manage their contracts online. Customers can use it both to view the current coverage levels of their contracts and to actively manage their contracts.
Main Features:
Purchase and sale of quantities and services (tranching)
Target price procedure
Price conversion of already fixed quantities before start of delivery
Alarm workflow when target price is reached and when trading periods are exceeded
Contract monitoring through integrated contribution margin analysis
Connection to external systems
Your Advantages:
Reduced workload by integrating the customer into the procurement process
Increased customer satisfaction/flexibility through transparent portfolio management around the clock
Solution can be seamlessly integrated with quotation calculation in robotron*esales
Customer-specific authorization management
Sales Controlling
Modern sales controlling for utility companies
One module - All key figures at a glance
The central time series management system provides the fundamental data basis for innovative sales controlling in utility companies. The use of differentiated forecasting techniques for individual consumption as well as the collection of specific procurement, sales and administration costs facilitate the contribution margin-oriented calculation of individual contract conclusions. It also facilitates the forecast of the contribution margins achieved in the process.
Your advantages at a glance:
One module - all key figures at a glance
Automated calculation
Free definition of key figures
Contract and quantity reports
Evaluation options with business intelligence
The modules of the EDM solution for sales and procurement robotron*esales support essential value-added processes in mass customer business. All functional requirements are fully covered, from calculation preparation and forecasting to efficient offer generation, billing and financial accounting. In order to keep an eye on all relevant values and to be able to process calculations and analyses efficiently, the system offers numerous evaluation options. The system also provides for various visualization tools for convenient analysis of individual load curves, group sums, price time series, and much more. Administration is also carried out flexibly via an intuitive administration interface.
Energy Data Solutions for the Web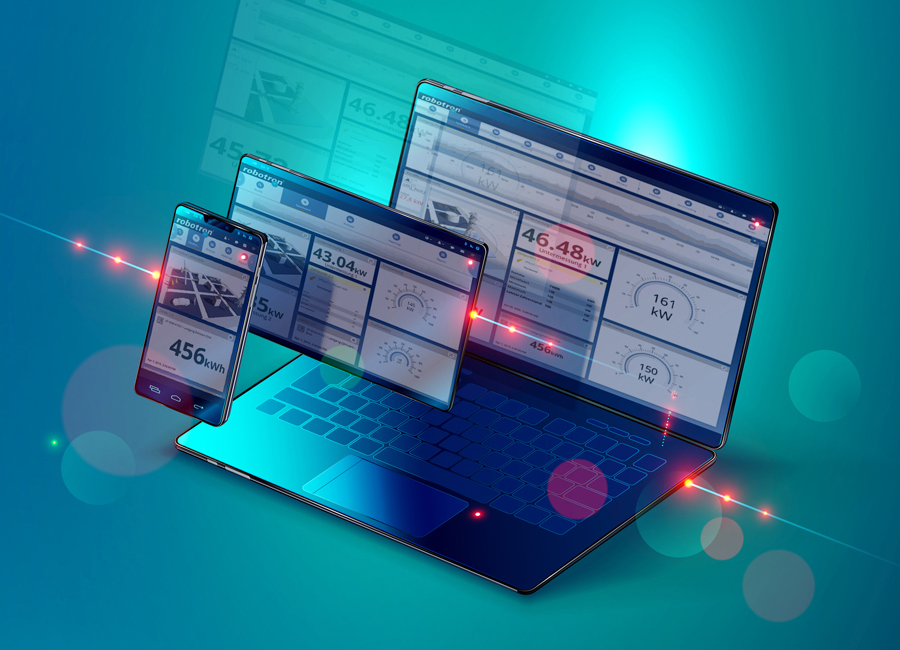 The robotron*Webportal, designed and developed in a modular form, offers you the flexibility to provide energy data from robotron*ecount, robotron*esales or robotron*ecollect online for your private and business customers. The robotron* Webportal can be flexibly tailored to your user group, no matter what market role.
Optimal mapping of EDM processes online for different target groups, including smart metering, energy trading, branch management and other self-service offerings
Integrable into existing websites, operated as stand-alone in your data center or as Software as a Service (SaaS) in the Robotron Cloud
mehr erfahren
Market Communication 2022 – Solutions for Intelligent Network Access Management
The decision of the Federal Network Agency in the determination procedure for the further development of the network access conditions for electricity (BK6-20-160) of December 21, 2020, is accompanied by numerous new regulations in market communication in Germany. The decision provides for extensive further developments of the existing procedural regulations. Robotron experts will support all users of the Robotron Energy Market Platform in implementing the new market processes by October 1, 2022. The Robotron solution focuses in particular on the fully automated verification of the network utilization invoice through standardized price sheets as well as the provision of data for smart services around the new market role Energy Service Provider.