Dashboard Application for Fleet Management and Reporting
Robotron and Microsoft Consulting Service developed a concept for the development of a dashboward application as part of the digitalization of new business models at Mercedes Benz Vans. The application was built for managing and reporting of vehicle fleets. This allows Daimler VAN to offer its customers new services such as replenishment based on a web application on Microsoft Azure. Robotron was also involved in the implementation of the dashboard application.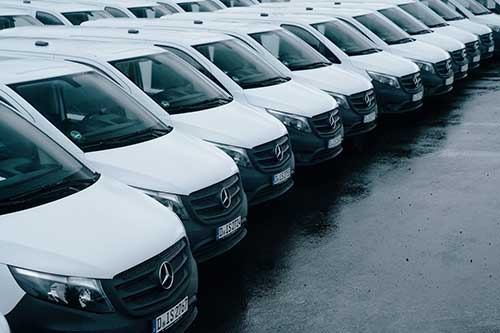 © Daimler AG
The web application includes dashboards for managing vehicles with an integrated map display for location determination. It also includes the management and visualization of dynamic geofences for mapping locations and areas. Further dashboards provide the integration of services such as maintenance or vehicle supervision. Different evaluations of key figures on vehicles are carried out using aggregated statistics and dynamic graphs.
The digital assistant was designed and developed as a Xamarin app - a mobile counterpart to the dashboard. This allows fleet managers and drivers to easily authenticate themselves via their voice pattern. Subsequently, it is possible to use voice commands to query the status of the fleets and issue commands, for example, to unlock and lock the vehicles. The digital assistant is being implemented by Robotron.
Back